IT'S ALIVE!   The Christmas Chameleon comes early this year!  It's two weeks ahead of schedule, but we couldn't hold him back …  Chameleon shop displays are available for you and your clients NOW! Want to get started?  Visit our Chameleon Marketing Web Page at http://marketing.sassieshop.com/chameleon ! You'll find all the tutorials, galleries, and FAQs you need to get yourself up and running in minutes. Just want to dive in?  We've repeated our Quickie Chameleon guide at the bottom of this email
     LAST CHANCE TO SELECT YOUR CHARITY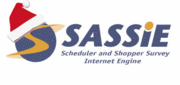 The deadline is midnight TOMORROW (THURSDAY DEC 17th)!
 
To make your company's selection, visit:
http://sassieshop.com/bnc.php?M=240&TP=7&S=10034&L=17078&C=8f513bbdb2
We'll make a donation in your name to your selection!

QUICK CHAMELEON HOW TO GUIDE
A) First, you need to be a certified SASSIE Form Creator

B) Log into your account on the SASSIE PRODUCTION Server (where you normally log in)

C) From the Main Admin Page, select your client and "Clients and Forms"

D) Optional : Select "Upload Client Logo" and upload a logo for Chameleon Displays

Note: We made this a different upload from the regular client logo. Why?  We wanted to give you the option of uploading logos in "transparent PNG format" because Chameleon can seamlessly embed PNG logos into any of its themes (i.e. no unsightly white box around the logo).

E) Select "Configure Chameleon" from the Form Settings drop down

F)  Now make you Chameleon Design with these steps!

Turn Chameleon ON for this Survey
Select a Theme
Load a Widget Set  (there are 6 presets to help you get started)
Customize Widget Set (optional):  Drag and Drop Widgets to generate a custom display that highlights the data your customer wants (need to see what's available? Click the "Download Widget and Theme Gallery" button)
Save Widget Set:  Like a particular widget order you created? Want to re-use it for other surveys? Enter a name under "Save order as a widget set" and save it. It'll be immediately available under the Load Widget Set menu!
Click APPLY THESE SETTINGS
Click VIEW CURRENT DISPLAY and wait just a moment to see your new creation!

G) Like what you see? Want to show it to a prospective client?  Use the PDF button (on the Chameleon shop display itself) to save it as a PDF!



Best wishes,
John Hsu
Managing Partner
SurfMerchants LLC